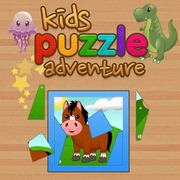 Kids Puzzle Adventure
Description:
Go with us on a puzzle journey! Visit a farm, dive into the ocean or explore the prehistoric age and discover which animals and objects are hidden in the pictures.
Fl4shGames.com is multimedia server, where you can play great flash games in different categories. Play over 5000 games for free. Including car games, fun games, 3D games, shooting games, arcade games, sports games, girls games, puzzle games and more. We offer new free games every day.